Login
Log in if you have an account
Register
By creating an account with our store, you will be able to move through the checkout process faster, store multiple addresses, view and track your orders in your account, and more.
Create an account
A White Knuckle Ride.
15 Nov 2020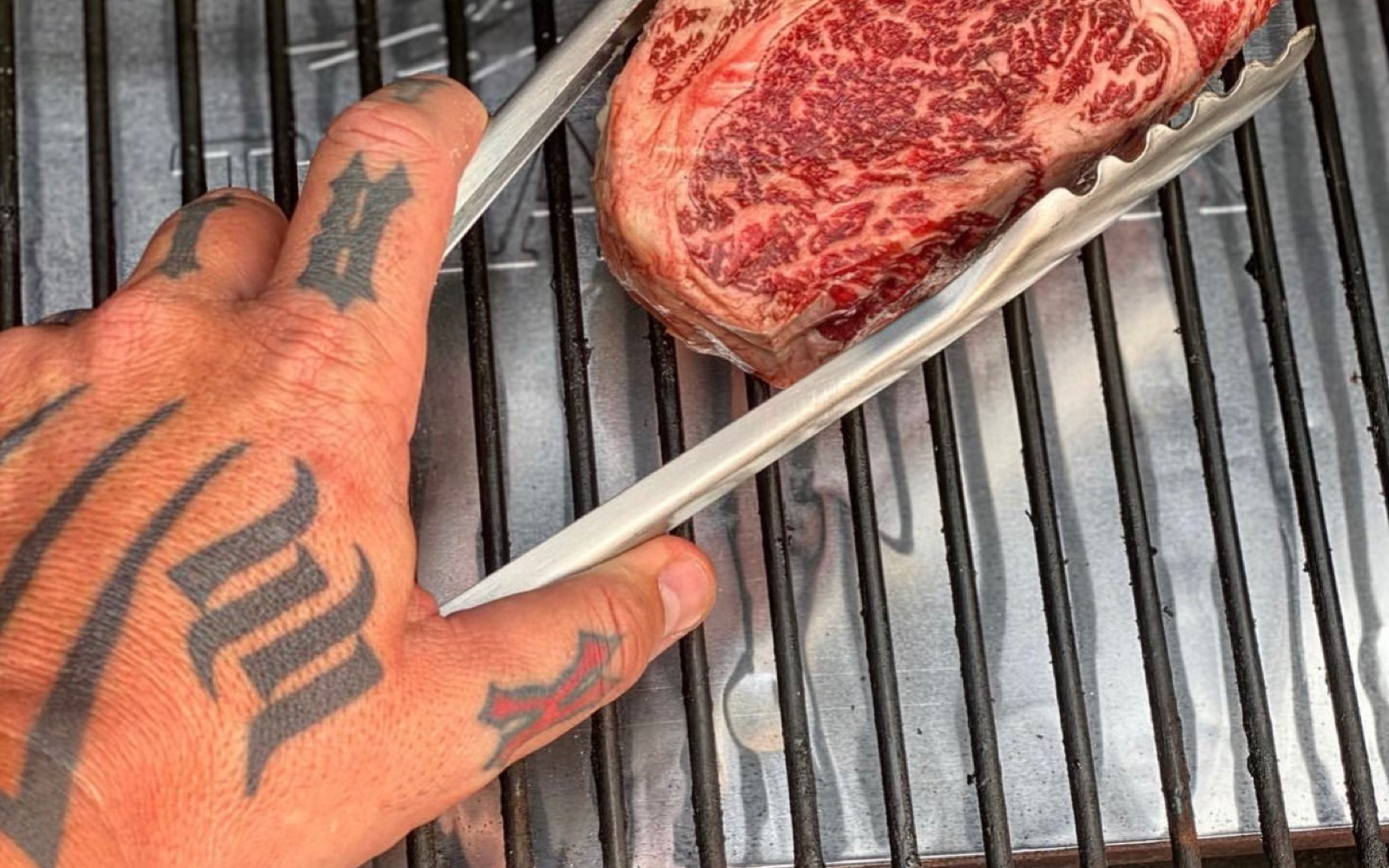 That's probably the best way to describe Bennie Kendrick's journey. 
It's crazy what food can do. 
He's the proud owner of Kendrick BBQ, a Central Cali. staple with a cult following and more than 228K Instagram followers.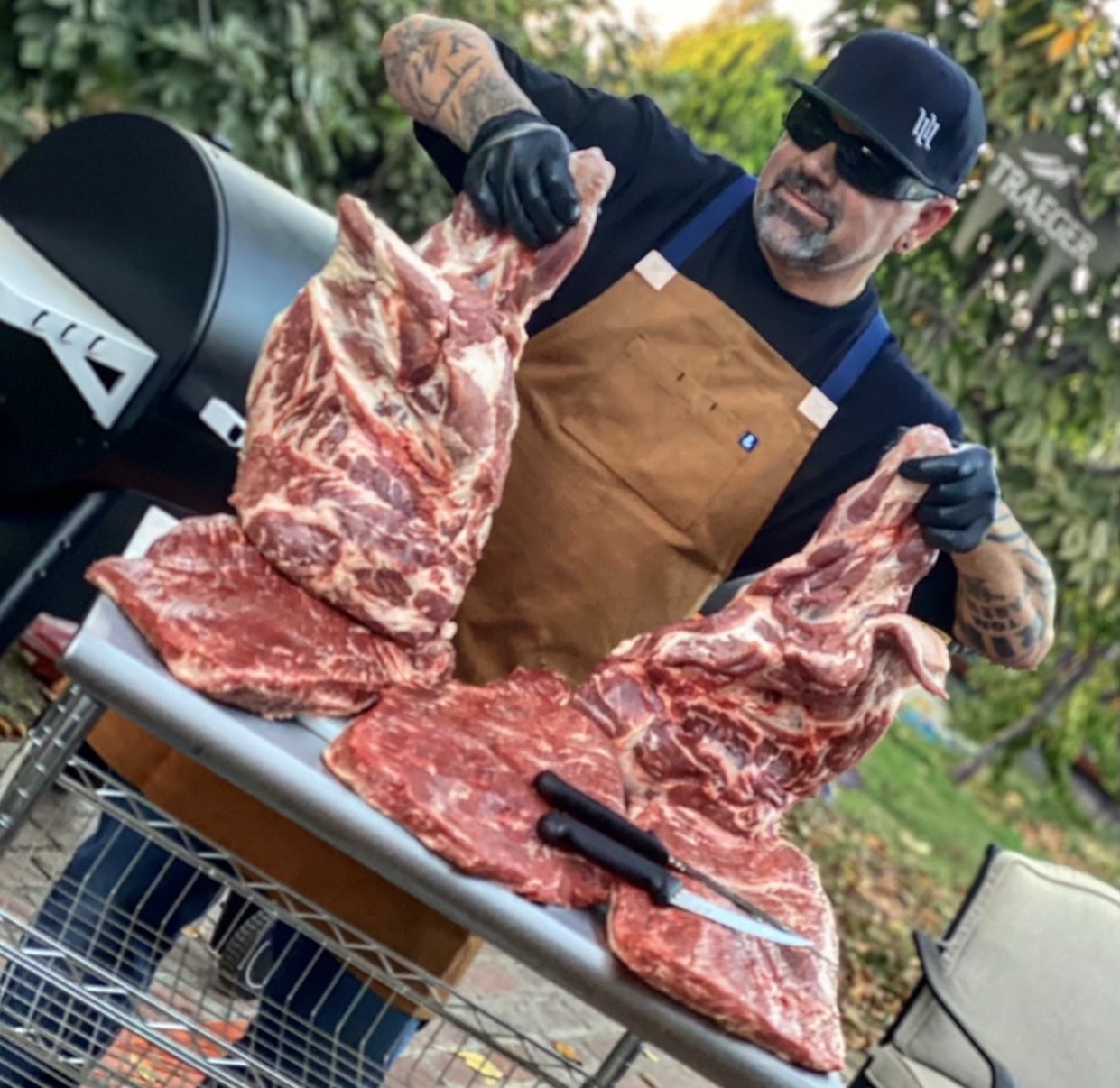 Bennie's inspiration for cooking started after a tragedy struck hard at home. His brother unexpectedly passed away at the young age of 37. 
It put me in a deep, cloudy depression that lasted for about three years. But at the time, I got invited to dinner over in San Ramon and they cooked out on this Traeger Grill, and I fell in love with it. 
So, he bought his own and, six to eight months later, he began to master the art of perfectly grilling, searing and smoking meat. 
I visited my uncle in Bakersfield not long after. He has a racing team called Kendrick Racing. My cousin was the driver and I went to see him race one day. He put some memorial stickers that I had designed for my brother on his car. It was extremely touching. 
And so, Kendrick BBQ was born. 
I never went to culinary school, but I grew up having backyard BBQs at my grandpa's house with my dad and brothers. I thought "Man, I could really get into this." It was the best medicine for me. 
Things pretty much sky-rocketed from there. Bennie started posting his creations on Instagram and had a couple thousand followers in just a matter of months. 
After a couple years of consistently gaining popularity on social media, he left his day job to become a spokesperson for Traeger Grills, Messermeister Knives, and Snake River Farms. His reverse-seared ribeyes are legendary.  Bennie has had the opportunity to cook for the likes of his community, including local law enforcement, and even celebrities like Mark Wahlberg.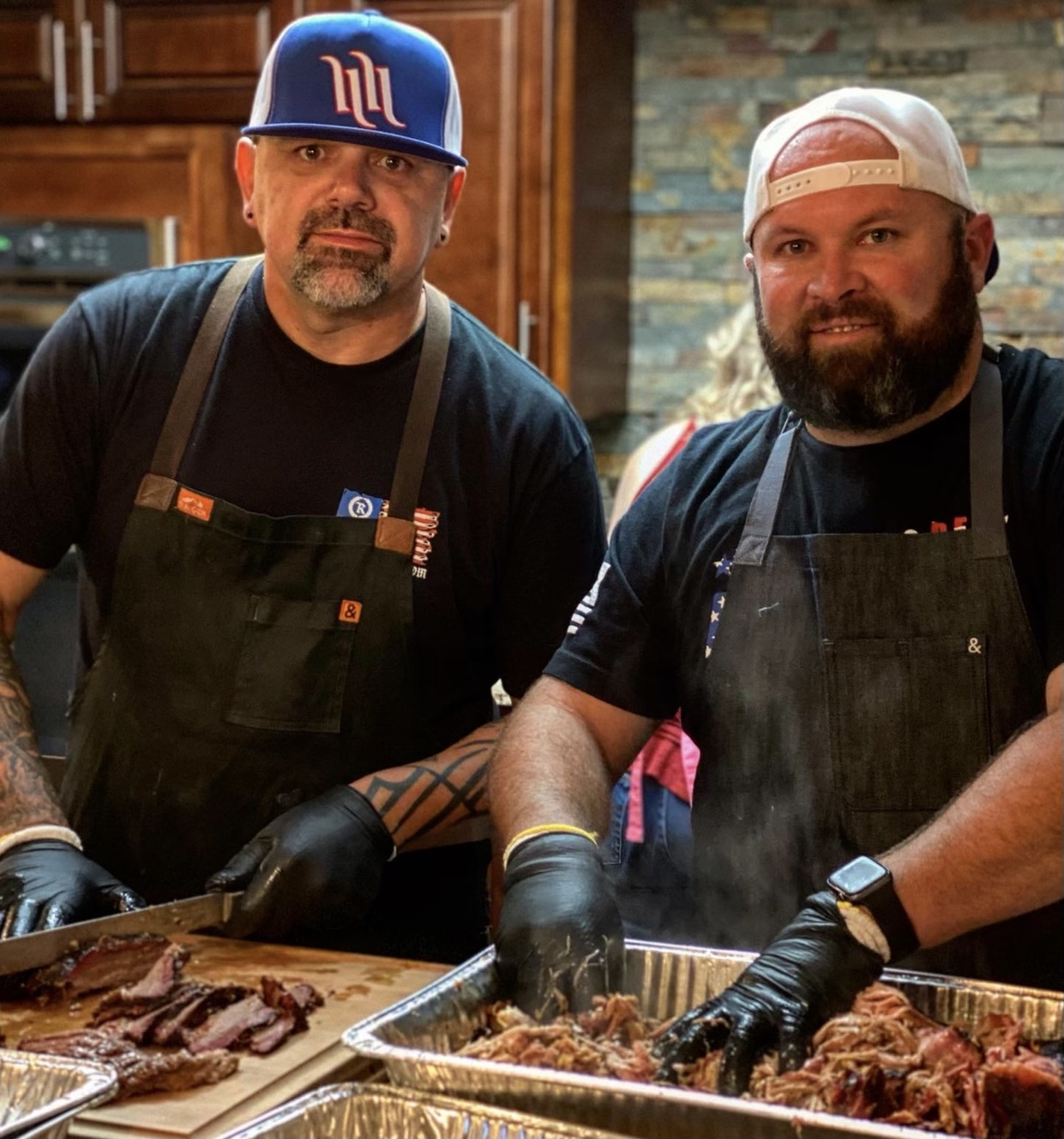 It's led me to so much. I even had some network TV show offers and requests to star on some big podcasts. I'm forever grateful to Chad Ward, Jeremy Andrus, and the entire team at Traeger. And to the Traeger Nation!
Bennie also just happens to be one of the original Hart & Huntington fans. 
I've had a passion for the "four bars" since day one. 
Bennie has "Kendrick" tattooed across his knuckles. He also has the H&H logo on his left hand which was inspired by Carey Hart's hand tattoo. 
I've been a Carey Hart fan since the late 90s. For some reason, he intrigued me right out the gate. And the Hart & Huntington logo is just the craziest, sickest logo I'd ever seen. 
He got the logo inked when he made the trip out to the H&H Vegas shop during the recession. He and his wife of 25 years didn't have a lot of money at the time, but it seemed like a necessary rite of passage for Bennie to get it done. 
I've been an H&H super fan for as long as it's been around. I walked up to the shop and was so taken back. I couldn't believe I was there. 
He has an impressive collection of H&H gear from way back when Carey was just getting started. We're talking vintage tees, DVS shoes with the four-bar logo stitched on the side, house slippers, button-downs—the whole gamut.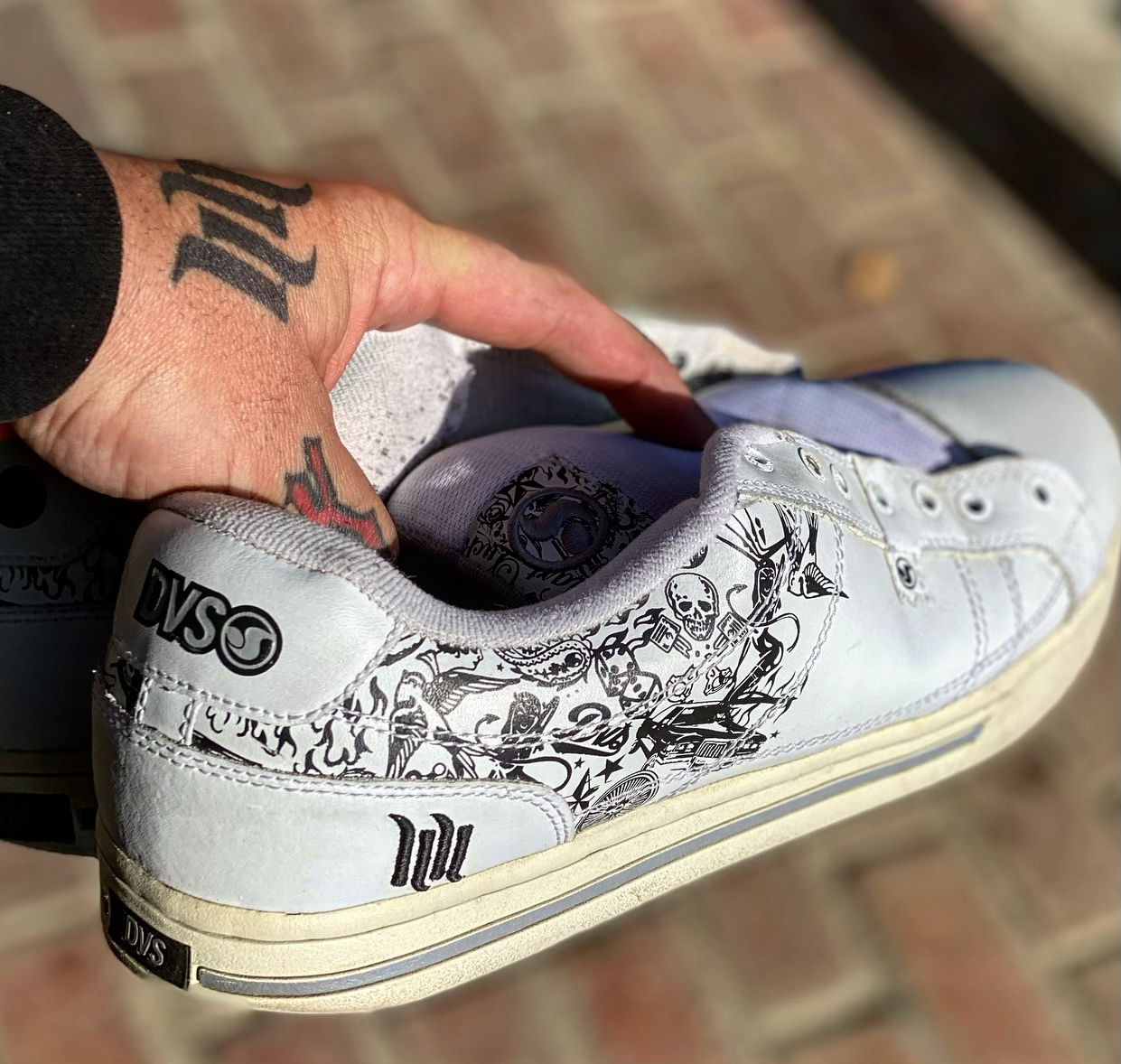 Carey has since become a follower of Kendrick BBQ on Instagram and the pair have hit it off through regular DMs. Bennie even walked Carey through how to prepare a Thanksgiving turkey on the grill one year. 
When he followed me on Instagram a few years ago, I totally fan-girled, almost passed out. I haven't had the pleasure of meeting him yet, but it's on my bucket list to have a beer with the dude. I've looked up to him for so long and he's always been so good to me. 
It's probably no surprise that Bennie continues to visit H&H to get tattooed. His arms are pretty much covered now, so he's working on a backpiece that's about 60 percent done. Just like the name across his knuckles, this one's got a lot of meaning behind it, too. 
I have a tattoo of the Traeger logo etched on a piece of wood, because it's part of who I am. There's an extension cord linking it to my logo because I wouldn't be where I am today without Traeger.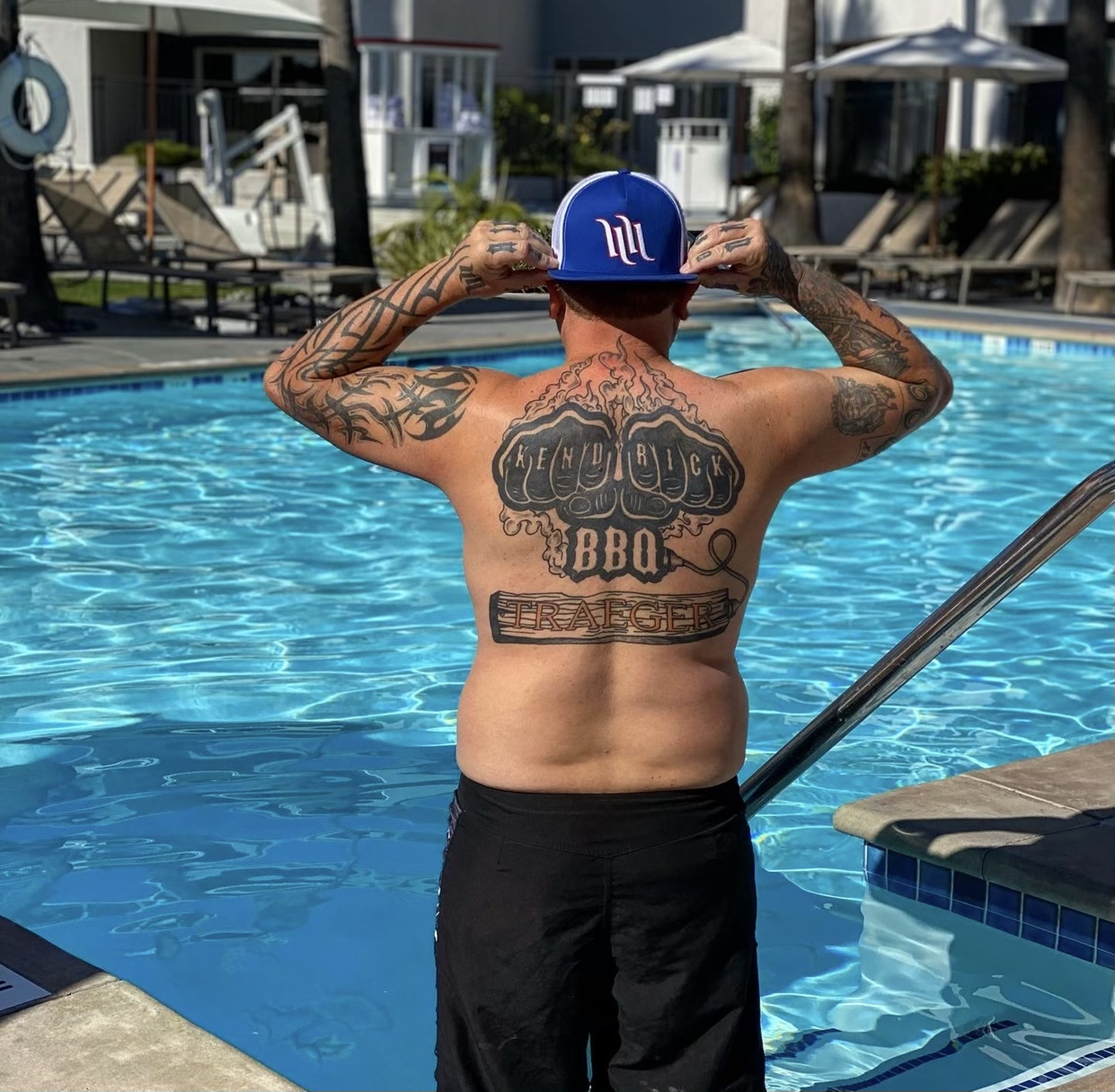 Most of his ink is dark with very little color. 
Black-and-gray is just my style. The first color tattoo I got was for my brother – a memorial piece made up of the Laker's logo (his favorite team) with his initials on it.  
Bennie is probably one of the most genuine, hardworking dudes you'll ever meet. 
I've always had a solid work ethic. 
Safe to say he's found his way—and then some. People recognize the Kendrick BBQ name all over the world. The same goes for his rescue dog, Tillie, who often makes a guest appearance on his Insta feed. 
His advice to aspiring grill masters. 
Have patience. Never use a dull knife. And don't overthink it. It'll all come together in the end.