Login
Log in if you have an account
Register
By creating an account with our store, you will be able to move through the checkout process faster, store multiple addresses, view and track your orders in your account, and more.
Create an account
From the ground up
23 Mar 2023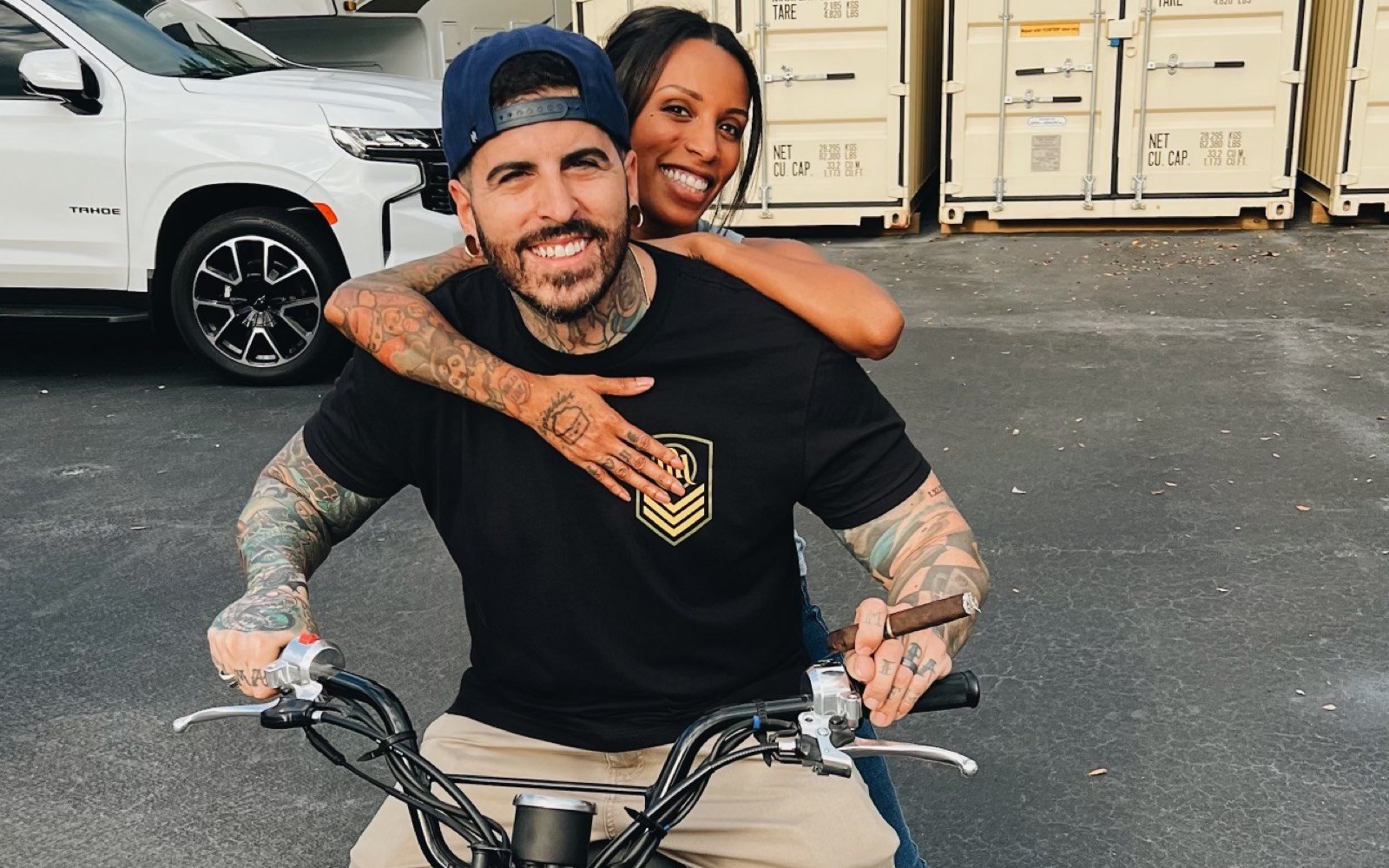 In the early 2000s, as the wave of tattooing began to take over the country, freestyle motocross legend Carey Hart opened a tattoo shop, Hart & Huntington, in the Palms Casino, Las Vegas. But this wasn't your typical tattoo shop. Turning the tables on tattooing, Hart's tattoo shop focused on a clean, safe, and pretty cool environment with some of the top artists in the biz. People liked stepping into stunning spaces where they felt safe getting inked. This new concept opened the door to people who otherwise may have avoided getting tattoos in shady shops.
The concept took off. Hart & Huntington started popping up in other tourist destinations. So, when the Orlando shop opened in Universal Orlando's City Walk it seemed like a natural progression. And, Stephen Csombok was there from the very beginning watching it all unfold. As Hart & Huntington's marketing director, Stephen has seen first-hand the evolution of both tattooing and the shop. In fact, Stephen and his good buddy Chris Turck, the managing partner of Hart & Huntington, were a fixture in the Orlando shop from the moment it was being built. The two even took some of the projects during the build into their own hands (literally), which is nothing new for Chris and Stephen who live, sleep, and breathe H&H.
"When Orlando was being built out, Chris and I were on site often. One night we were hanging the speakers on the wall, Chris was at the top of a ladder that was tilted up against the wall at a terrible angle, and the thing slid out from under him. I was like, Chris is dead!. Luckily his ass landed right on top of the curved, tattoo flash countertop, in a sitting up position. It's always fun during the build out process, but its always something too."
Indeed it's always something for this duo, who met while Stephen was working for Chris' business partner, Barry. 
"In the early 2000's I worked for Chris' business partner Barry in his surf/skate shop concepts. I was the assistant operations manager and skate/shoe buyer. I would see Chris pretty much everyday since he was sharing warehouse space with Barry, and after a while we became pretty good buddies. Being that I was the youngest and best looking in the warehouse I caught a lot of shit from Chris and my boss Jesse who happened to be Chris' best friend growing up."
There was never a shortage of fun and antics at the warehouse.
"We'd shoot burritos out of potato launchers, ambush each other with Airsoft guns, but the fun really started when we all got these little 50CC dirt bikes to race outside the warehouse."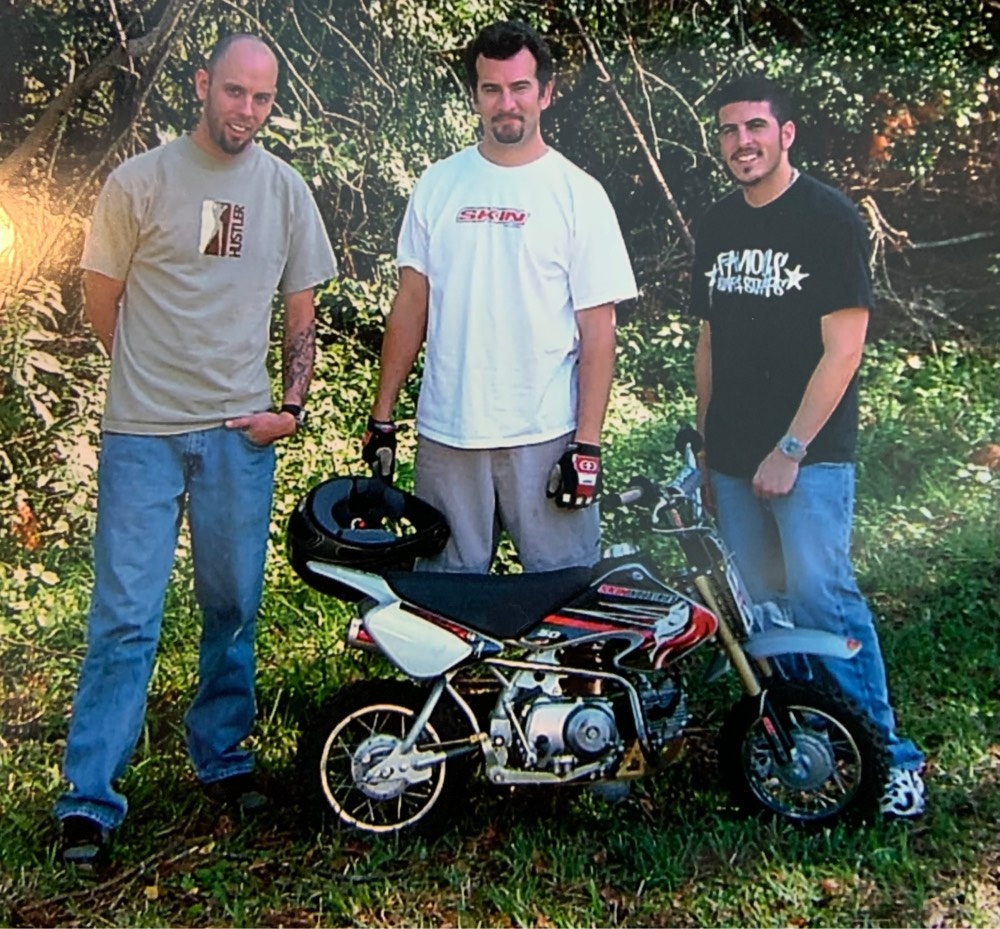 But even through their shenanigans, Chris saw Stephen's work ethic and potential shine through. He knew Stephen would be the perfect fit for Hart & Huntington Orlando.  
"I'll always remember the day that Chris had Carey come out to visit the warehouse and discuss the potential for Hart and Huntington Orlando. I was processing some products we just received and here come's these guys popping through the warehouse, and in my head I was like Holy Shit, That's Carey Hart!"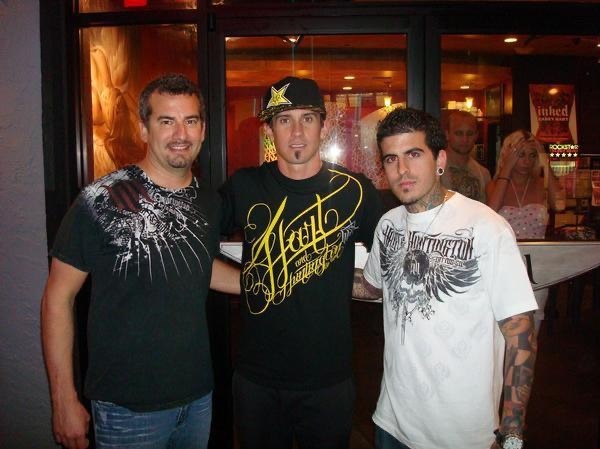 One night Chris invited Stephen out for drinks. 
"I'll never forget. Chris invited me out one night to go to Universal City Walk. He told me he was meeting with his managers of his action sports retail concept, XLR8. So I was like, yeah man, I'd love to hang out with you guys. I remember we're walking up this alleyway, and he takes out a set of keys and opens this door to what used to be the old glow in the dark store, so all the windows are blacked out. The whole thing is gutted on the inside, and then he announced that this is going to be the future home of H&H Orlando. Everyone started yelling and screaming so much that security came out to see what the hell was going on, so we left and grabbed a few drinks."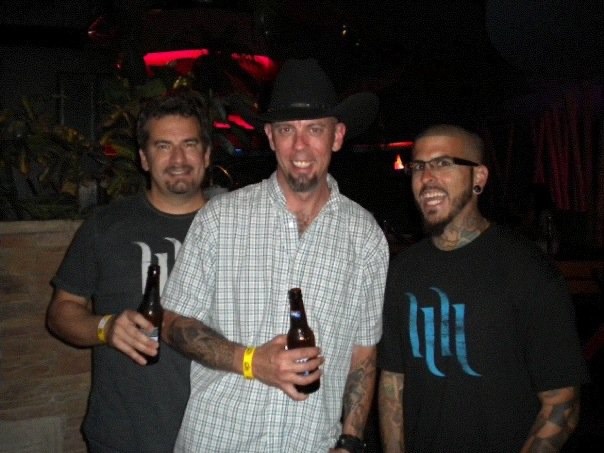 But it wasn't just drinks. It was the beginning of Stephen's journey with Hart & Huntington. 

"That's when Chris pulled me aside and told me he would like me to manage the shop. I was taken back. I didn't have any managerial experience or anything like that, but he saw something in me. So a few days later we met with Barry and went over the plan of action."
Joining the Hart & Huntington Orlando team from the start was surreal for Stephen, who attributes tattoos coming into mainstream America because of legendary motocross racer and founder of Hart & Huntington, Carey Hart.
"Tattoos have become mainstream. I remember the first time a show about tattooing was on TV. Carey Hart's show Inked aired in 2004—it was my first exposure to Hart & Huntington. I was like, 'wow, this is incredible.' This is a big step forward. It's bringing tattooing into people's living rooms."
Throughout his 15+ year career at Hart & Huntington Orlando, Stephen has seen tattoos and the culture come a long way. And that's what he loves about the business of tattooing.
"The tattoo culture has come such a long way. I feel like the misconceptions of tattoos and the culture around it have been depleted for the most part. What I like the most is that people coming in to get a tattoo are from many different walks of life and hearing their stories will make you laugh, cry, and even scratch your head and say what the f**k?!"
Stephen himself has some pretty good stories when it comes to tattoos. And one, in particular, came at the hands of, no surprise, his partner in crime, Chris.
"So I got tattooed by Chris. We were out at the shop one night—man, this was back in 2007, so the shop was still in its first year—we were out at the Cigar bar with a few of our artists after the shop closed, which was right across the way , and we had some beers, probably too many and Chris said, 'You should let me tattoo you.' I was like, alright. One of the artists said, 'I can set up the machine for you guys.' So I get this piece of Sailor Jerry flash of a pig running on the side of my leg— which was cool because we often referred to each other as pigs. Chris decided he would take some artistic freedom and add a set of balls dangling behind it.... So, yeah, that's on me."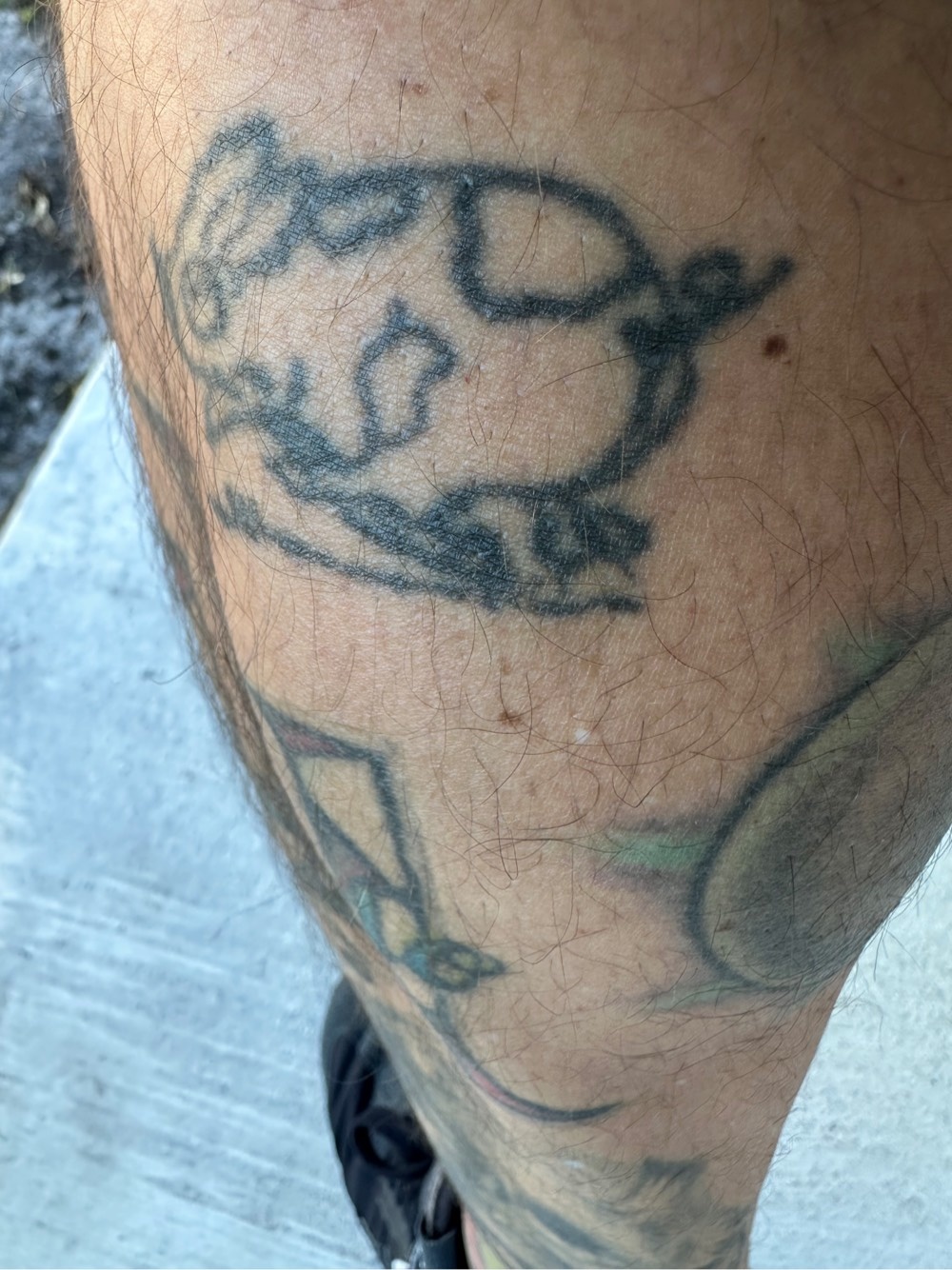 Good thing Stephen has a great sense of humor. However, his other favorite tattoo is a far cry from the pig with dangling balls.
"When I was younger, I got mama and papa tattooed on my knuckles. I got it to represent my parents. I asked each of them to pick an image representing who they were as a parent. My mom picked a heart, and my dad chose a tree. So I got a heart tattooed on my thumb with mama and a tree tattooed on the papa's side. I get the most comments about that tree because it looks like broccoli. That's probably one of the most talked about ones."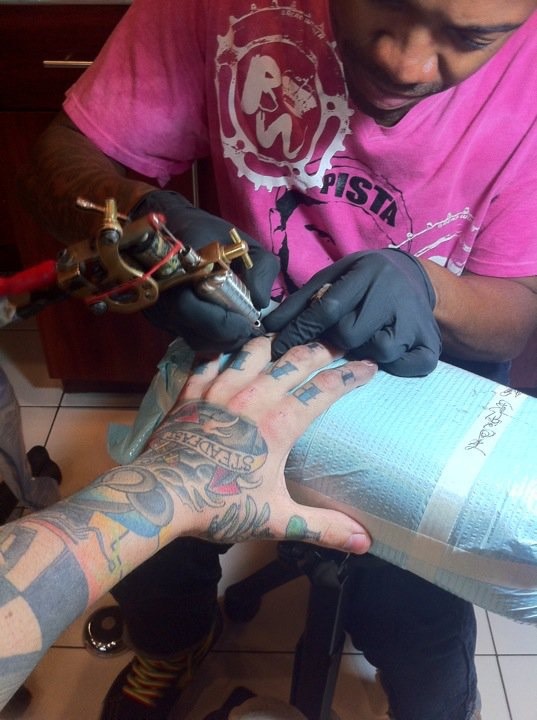 It's no surprise that Stephen has such contrasting ink all over his body. For him, it's all about what he's feeling at the moment—or, in the case of the pig balls, what his art is feeling. But that's how Stephen thinks it should be.
"I've gone through many different tattoo styles. Right now, I'm enjoying Neo Traditional-style tattoos. Before, it was Traditional Japanese; before that, it was Black and Gray. So, it changes, man. I look at art. I look at styles and what looks cool—you know, what you're feeling in the moment. I don't have one particular style I like more than another."
The variety and amount of tattoos Stephen has would make you think he was getting inked his entire life. But he didn't get his first tattoo until he was 23.
"The girl I was dating at the time had a couple of tattoos. One day I went to one of her appointments and decided I wanted to get my first tattoo. When I was ready I went to the same shop. It wasn't a pleasant experience, I didn't talk to the artist, I talked to his wife. But after seeing the end result and how it made me feel, I went back and got another. After some searching I found a great artist and it was on after that. Within a year, both of my arms were almost completely covered."
Stephen's tattoos juxtapose two ends of the spectrum, sentimental black and gray, to Neo Traditional skulls and daggers. But for him, there aren't any rules regarding getting inked. And defying stereotypes is what he likes about the art, the clientele, and the biz of tattoos. Tattooing isn't one size fits all.
"For me working at Hart & Huntington is really about the people. It's being able to walk into the shop and see fresh faces getting tattooed and building relationships with our artists and staff. That's what keeps me fired up. The opportunities never stops. I've seen so much growth with the company over the last 20 years. It's been incredible and i'm very grateful to be apart of it." 
Hart & Huntington has thrust itself into the spotlight as one of the country's most trusted and iconic tattoo shops. The antithesis of the stereotypical tattoo shop, H&H's pristine studios attract the most talented artists. And as marketing director, Stephen has seen the results firsthand.
"I want to keep growing. More locations, more opportunities. I love seeing our people build careers and grow within our company. I for one am not going anywhere. I'm what you call a lifer."
At Hart & Huntington, we're glad Stephen is a lifer. We wouldn't have it any other way.